The Art of Healthy Aging Series: Let's Talk Menopause
---
A diverse team of women living with HIV, academics, and community researchers came together to discuss the menopause transition for women living with HIV. We also had the honour of being accompanied by community advocate Claudette Cardinal, local artist Peggy Frank, and infectious disease doctor Dr. Elizabeth King
Details
This exciting art and learning event took place at AIDS Vancouver on June 16th from 2pm – 5pm.
---
Event Summary
Claudette opened our event in a good way with a land acknowledgement and smudging of each participant. She then led us through a fun dance warm up to loosen things up! We then had an informative and interactive talk by Dr. King all about menopause. Next, Peggy got our creative juices flowing with a body mapping exercise to draw our internal and external experiences with menopause. We ended the day with a delicious meal catered by the Gathering Place! Participants left with gift bags full of chocolates, Epsom salts, lotion, socks, and many other treats!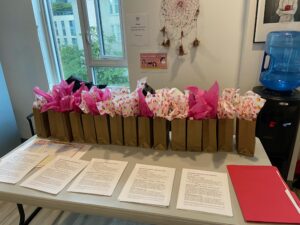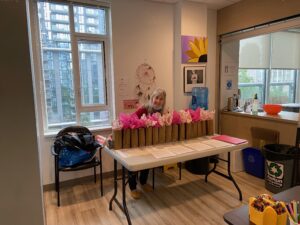 We are a research team of women living with HIV, community, clinicians, and academics based in British Columbia, Canada, and we seek to better understand healthy aging in women+ living with HIV!
.